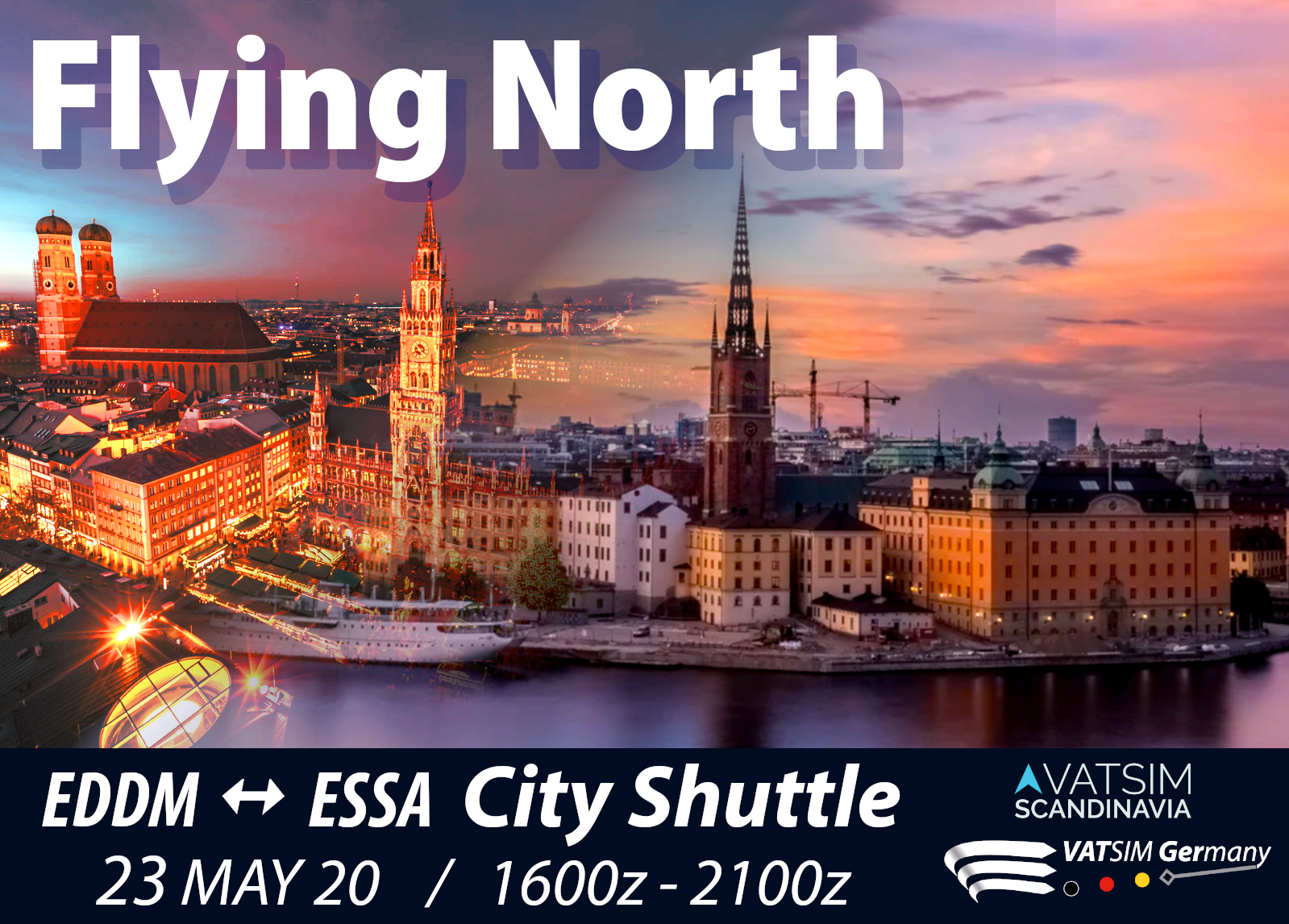 After the great success of the first Flying-North-event between Munich and Copenhagen, the RG Munich is looking forward to offering you, together again with VATSIM Scandinavia, the continuation of this series with a city shuttle between Munich (EDDM) and Stockholm (ESSA)
Therefore, on Saturday, the 23th of May 2020 not only will the "Stockholm Arlanda Airport" and the "Franz Josef Strauß" Airport Munich be staffed for you from 1600z (18:00 lcl) until 2100z (23:00 lcl), we even offer you full enroute sevice.
The state capitals were not only both founded in the 11th century, they also each have a royal past. However, while the Kingdom of Bavaria fell victim to World War II, the Swedish monarchy has survived to this day, if only as a parliamentary monarchy without real powers.
So clean your cockpit windows, plan your route and enjoy a unique flight between these two historic cities. The controllers await you with their service at both airports and for ambitious pilots there should even be enough time for a return flight.
--
The following routes are recommended for the event:
EDDM-ESSA: BIBAG Y133 BEPAS N871 LETNA DCT ARTUP DCT TOMTI P733 DIMEX Z172 RIVDI M607 ARMOD Z228 NILUG
ESSA-EDDM: NOSLI N850 ABAMA DCT LUSID L87 PESEL DCT RENKI DCT DCT MAREM DCT VESUB T106 BAGMI
Freeware-sceneries-EDDM:

Unfortunatly until now, there is no scenery, that contains the new general aviation apron. Please use stands 800-806 for GAP.
Freeware-sceneries-ESSA:


_________________
VATSim-Germany
/
RG München
/
Event-Department