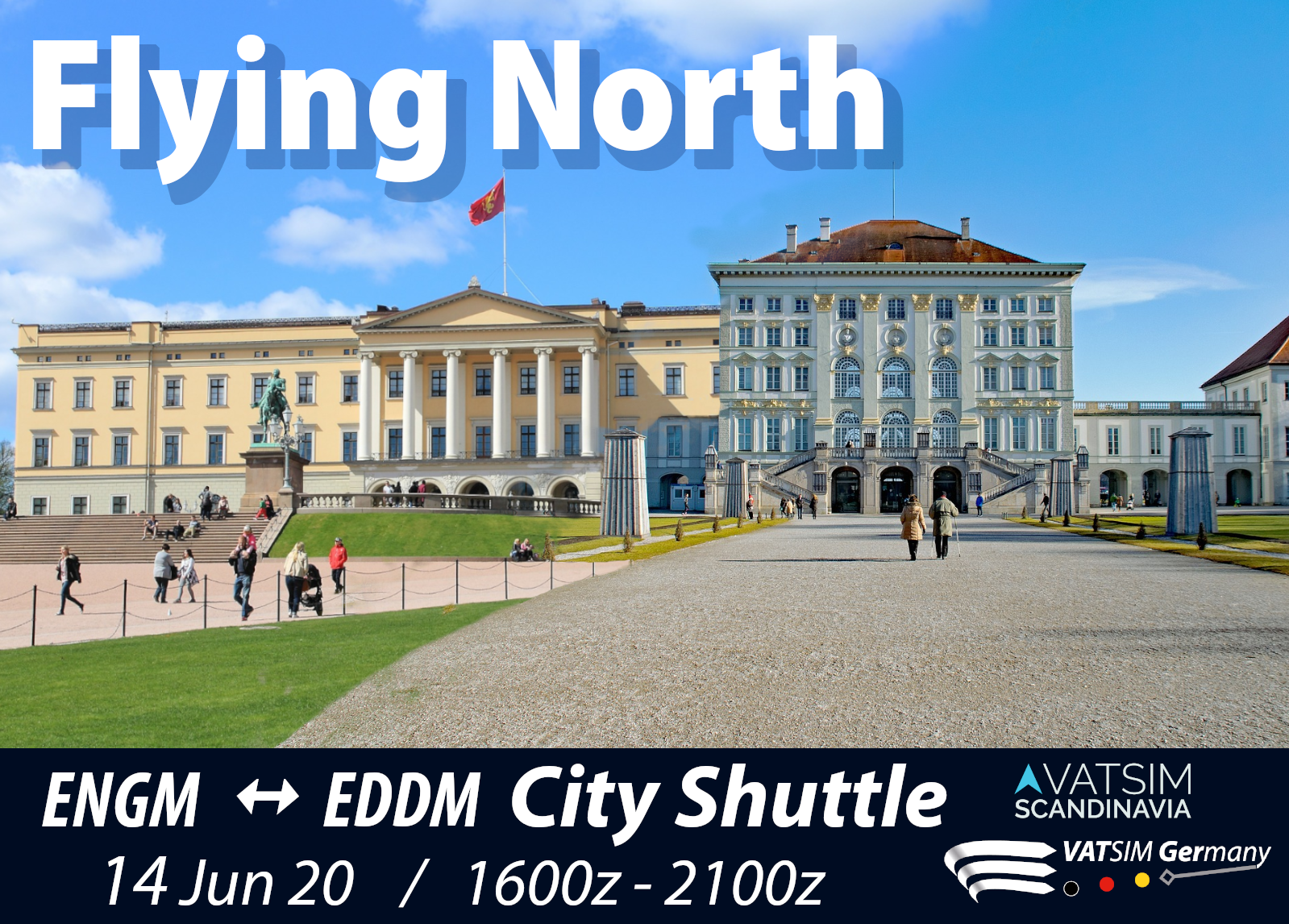 For the third time now, RG Munich and VATSIM Scandinavia cordially invite you to a city shuttle from southern Germany to Scandinavia or vice versa. After the cities of Copenhagen and Stockholm, the shuttle will take place this time between Oslo (ENGM) and Munich (EDDM).
On Sunday, June 14th, 2020, not only the "Airport Oslo-Gardermoen" and the "Franz Josef Strauß" Airport Munich will be staffed for you from 1600z (18:00 lcl) until 2100z (23:00 lcl), but as well we will endeavor to ensure full ATC coverage throughout the route.
Both cities have their own royal castle, which is now owned by the state. However, both the royal couple of Norway still have the right to live in the royal castle of Oslo, and the current Duke Franz of Bavaria has limited right to live in the Bavarian castle Nymphenburg. Whilst for the Nymphnburg castle, which served as a birthday present for the long-awaited heir to the throne, Max Emanuel, no expense or effort has been spared, there had been a discussion about the financing of the 200 years later constructed castle in Oslo. Because of that the once planned side wings of the castle couldn't be build.
So get ready to go and enjoy this unique flight - whether from north to south or vice versa. The controllers are looking forward to numerous inbounds and outbounds at the two courts.
The following routes are highly recommended for the event:
ENGM-EDDM: VIPPA DCT GITER DCT BUMIL DCT EMBOX DCT SODRO T703 LULAR T105 EXUSI
EDDM-ENGM: INPUD Y102 UPALA M726 LASGA DCT LARET DCT GITER DCT GOTEX Z731 SABAK L997 LUNIP
Freeware-Sceneries-EDDM:
Unfortunately until now, there is no freeware scenery, that contains the new general aviation apron.
Freeware-Sceneries-ENGM:
Freeware-Sceneries-ENGM: