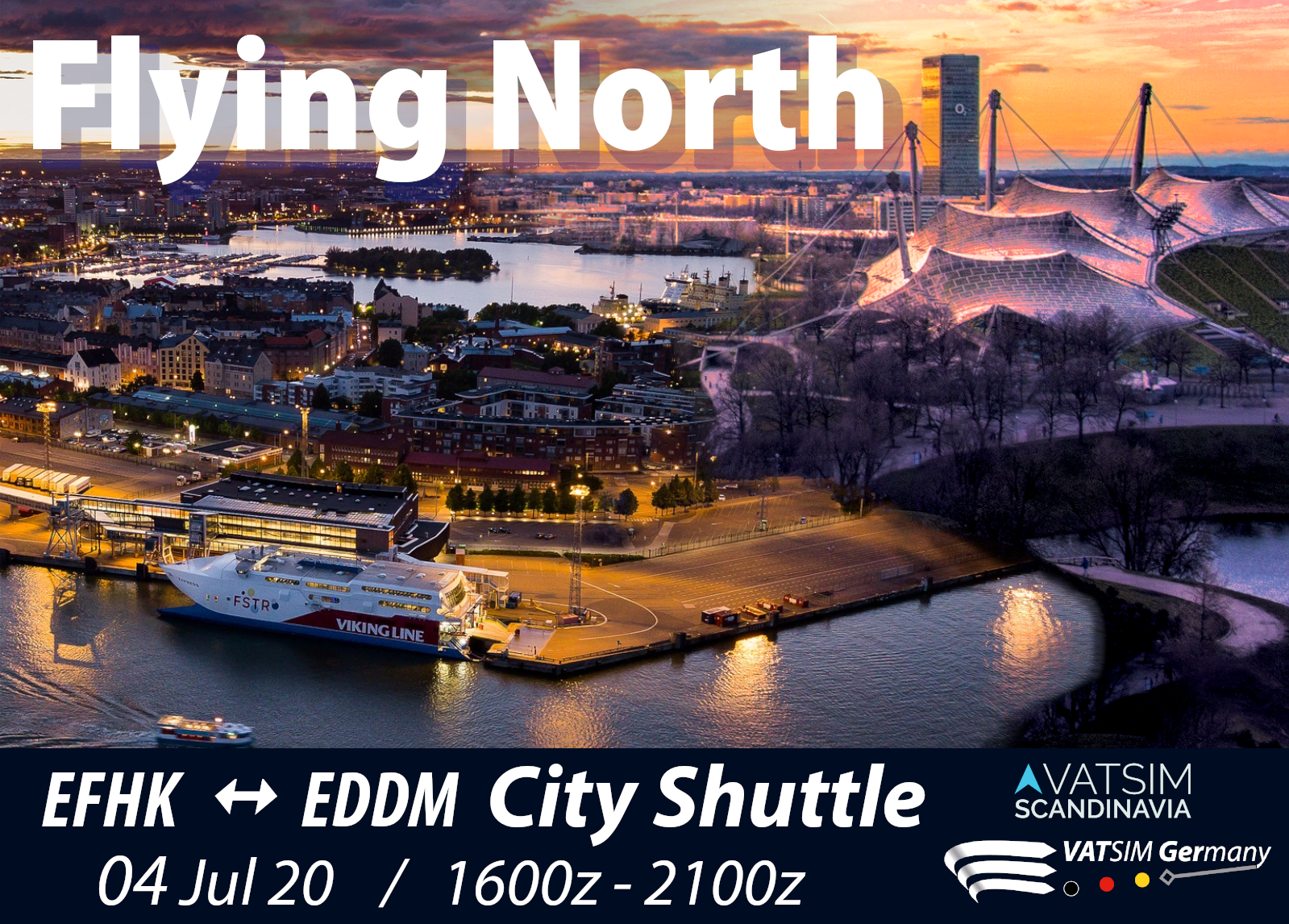 For the fourth and for now the last time, the RG Munich , together with VATSIM Scandinavia, cordially invites you to a city shuttle from southern Germany to Scandinavia or vice versa. After the cities of Copenhagen , Stockholm and Oslo, the shuttle will take place this time between Helsinki (EFHK) and Munich (EDDM).
On Saturday, July 4th, 2020, the "Airport Helsinki-Vantaa" and the "Franz Josef Strauß" Airport Munich will be staffed for you from 1600z to 2100z. We will endeavor to ensure full ATC coverage on the recommended route, but for that we depend on the cooperation of the other VACCs.
Both airports were built to replace the local airports, which had become too small. However, while the airport in Helsinki replaced the old Helsinki-Malmi square in 1951, Munich only went into operation in 1992 as a replacement for Munich-Riem. Nevertheless, both airports were continuously expanded to meet the growing number of passengers. The Helsinki Airport with its three runways will be able to serve 20 million passengers at the end of 2020 after the current expansion has been completed, while Munich is still struggling for approval to build a third runway to meet the forecast passenger numbers of 58 million passengers in 2025.
So do not be afraid to ensure sufficient traffic at both places and also to bring the airports to their capacity limits.
The following routes are highly recommended for the event:
EFHK>EDDM: NUNTO Y369 REKDO DCT ARMOD DCT ETRUS L87 PESEL DCT RENKI DCT MAREM DCT VESUB T106 BAGMI
EDDM>EFHK: AKINI Y104 MAMOR L132 AGNAV DCT SUPIL DCT KILNU DCT UNRIG DCT BODLA DCT PENOR DCT ALAMI DCT EVADI Y370 DIVAM
Freeware-sceneries-EDDM:
Unfortunately until now, there is no freeware scenery, that contains the new general aviation apron.
Freeware-Sceneries-EFHK: